Thousands of elderly people reliant on care at home are either 'unable or unwilling' to receive the COVID-19 vaccine, the chief executive of home care firm Cera has said.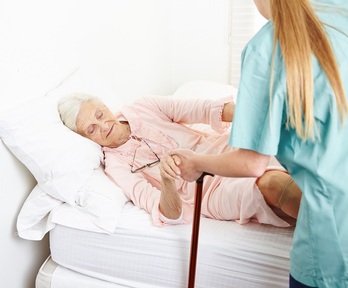 Fear or frailty means the vaccine is not reaching people reliant on home care. Credit: Shutterstock
The home care provider has revealed only one per cent of the 10,000 older people, his firm cares for in their own homes, has received the jab because they are either too frail to travel to vaccination settings or are too fearful of getting infected with the virus to make the journey.
'Logistical and lifestyle challenges'
Cera's chief executive Dr Ben Maruthappu has said 29 per cent of its home care workers have had the jab.
Dr Ben Maruthappu told The Guardian: "Whilst we were right to prioritise older people for vaccinations, we have totally overlooked the logistical and lifestyle challenges that many of them face in attending appointments.
"Our data points to a stark problem that needs to be addressed urgently. If those that are unable or unwilling to attend remote appointments aren't vaccinated in their own homes, we'll continue to see the virus spread among the most vulnerable and won't be able to get the R rate down sufficiently."
Earlier this month, Cera announced it is set to create 5,000 new jobs in 2021.
But the challenging vaccine rollout for people receiving care at home has led Cera's boss to call for vaccine training for home care workers and for mobile units to deliver it to people receiving care at home.
In a tweet posted on 25 January, Cera (@ceracare) stated: 'We're calling for in-home testing to help the #ForgottenMillion'.
Meanwhile, the government announced on 25 January that a 'Community Champions' system is being set up to provide advice on COVID-19 vaccination to boost take up amongst at risk groups such as older people and disabled people.
Over £23 million funding has been allocated to 60 councils and voluntary groups in England to deliver the scheme in a bid to tackle vaccine hesitation.
Secretary of State for Health and Social Care Matt Hancock said: "Throughout the pandemic, our priority has been to protect the most vulnerable.
"It is vital higher-risk groups are able to access the advice and information they need whether it's about testing, accessing the NHS or the benefits of a lifesaving vaccine. I'm delighted to see further funding going to local areas to support their communities during this challenging time."